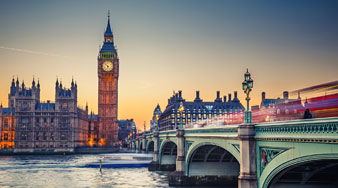 12 Nights | Prices starting from $3448*
(per person/double occupancy)
Itinerary includes: London (Tower Bridge), England (overnight); Antwerp, Belgium; Amsterdam, Netherlands; Kiel Canal, Germany; Copenhagen, Denmark; Tallinn, Estonia; St. Petersburg, Russia (2 overnights); Helsinki, Finland; Stockholm, Sweden.
You may want to arrive in London early, if for no other reason than to shop along Portobello Road, one of London's best known street markets. Then it's off on this fantastic voyage, spectacular from the start. En route to the Kiel Canal, sail along the River Thames, right downriver from the famous London Tower Bridge. It's an experience Azamara can offer because of our smaller ships and it's truly amazing.
Stop in some of the most charming cities in Europe. Antwerp has Rubens, and Amsterdam, 200-year-old canals. Copenhagen has the medieval center, and Visby, Vikings.

But it's the World Cup match at St. Petersburg that's the real star here. In addition to watching the best soccer players in the world, you'll be among the first spectators to visit Zenit Stadium. Designed by Japanese architect Kisho Kurokawa, it is known as The Spaceship, to offer a hint. As to who will win the 2018 World Cup? Stay tuned.
Interested in River Cruises?
Interested in Ocean Cruises?